The Guest List
Max – Moved to East Side before junior year. Quickly became quarterback of the football team and led the team to back-to-back state championships. Dated Stacey and won prom king. Currently runs his parents' jewelry business.
Stacey – The most popular girl at East Side High School. Dated Kevin for almost three years before dumping him via a note delivered by her friend Amanda. Dated Max for the remainder of high school. Stacey and Max are now married.
Brad – Quarterback of the football team before Max came to East Side and won the spot. Switched to defense and helped the team win back-to-back state titles. Good friends with Kevin. Is now an insurance salesman.
Christina – Captain of the cheerleading team and best friends with Stacey and Amanda. Beat out Stacey for prom queen, to the surprise of all. Currently a reporter at a local television station where she mostly does puff pieces.
Kevin – Captain of the basketball team. Was dumped by Stacey the day of the conference championship game junior year and had an awful performance. Led the team to the conference championship the next season. Is now a dentist.
Amanda – Good friends with Stacey and Christina. Dated Gus, the school bad boy, and got in trouble when Jill revealed this to her parents. Is now married to Gus and has three children.
Brian – President of the chess club. Was depantsed by Craig at the senior awards assembly in front of the entire student body. Went on to start a successful tie-dye apparel company, which he recently sold for $20 million.
Theresa – Student council president and model student. Was named "most likely to succeed" by the members of the class before graduation. Is now a high-powered lawyer in a prestigious law firm in New York City and is dating Brian.
Principal Anderson – Principal of East Side High. Known as a hard-working pedagogue who emphasized discipline and integrity. Took disciplinary action against Jill when Theresa, Christina, Stacey, and Craig reported her for cheating.
Jill – Track athlete who was often teased by Amanda. Got revenge on Amanda by ratting out her relationship with Gus to Amanda's parents. Failed English class after several students reported her for cheating. Is now a firefighter.
Melissa – Member of the swim team and good friend of Theresa and Molly. Had a rivalry with Stacey. Currently an event planner in the Big Apple, where she is maintains her close friendship with Theresa.
John – Member of the basketball team. Disliked Kevin after Kevin gave up on the team in a game after getting dumped. Was friends with Max and Craig, but rumor has it he is no longer on good terms with either. Married to Jill.
Molly –  Captain of the volleyball team. Good friends with Theresa and Melissa. Went on to marry Kevin. Is now a successful fashion model, whose billboards and magazine advertisements have been seen by all.
Gus – The school bad boy and rebel without a cause. Is said to have done a complete 180 and to now be a very spiritual person who practices meditation and claims to be at peace with the universe.
Craig – Lineman on the football team. Best friends with Max. Currently manages the local carwash with Gus.
Jennifer – Ran track. First chair flute player in the school band. Good friends with Abby during high school, though word on the street is that they don't talk anymore. Now a member of the San Francisco Symphony Orchestra.
Abby – Ran track with Jennifer and Jill. Lost to Theresa in the elections for student council president. Second chair flute player in the school band. Practices accounting now, along with her husband Matthew.
Matthew – Ran track and played tuba in the school band but quit during sophomore year. Friends with Brad and Kevin. Dated Abby, to whom he is now married.
Coach Brown – Football coach and health teacher. Led the football team to back-to-back state titles. Has remained at the school in this role, though the team has suffered poor seasons in recent years.
Dr. Thompson – Band director with a PhD in music, a fact that is brought up frequently by Dr. Thompson. Came to East Side in the middle of the '65-'66 schoolyear after the abrupt departure of the prior band director.
Game Materials
Getting Started Instructions
Invitations
Character Bios
Name Tags
Host Guides for Acts 1 and 2
Act 1 Character Sheets
Act 2 Character Sheets
Clues & Evidence
Voting sheets
Solution
Award Certificates
Spice Up Your Party
The 1970's aren't particularly known for their advancements in food cuisine, but there are still a lot of totally awesome possibilities for party food, especially considering that cocktails and appetizers are often served at a high school reunion. Offer guests meatballs served in a crock-pot, potato skins, Doritos, or sandwiches cut into fun shapes. Pay homage to the "mixed tape" by serving one of these mixable dessert options: trifle (a dessert consisting of layers of cake, pudding, fruit, whipping cream) -OR- frozen yogurt or ice cream served with a selection of various toppings.
Bundle to Save a Whopping 50% on Additional KILLER Party Games!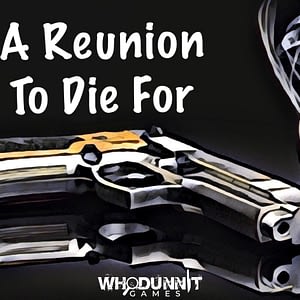 This item:
A Reunion to Die For
$

39.95
$

39.95