The Cast
Loren – Three-time defending champion and the most marketable athlete in the history of Killer Wave Surfing Federation. Has had a down year and enters the Maui championship ranked third.
Cameron – Ex-professional surfer. Loren's agent and coach.
Quinn – Emerged from relative obscurity to become this year's heavy favorite entering the championship tournament. Has a reputation for being a poor sport and holding grudges.
Sam – Ex-professional surfer. Quinn's older sibling and coach. Long-time friend of Cameron, though the relationship has suffered in recent times.
Lee – The most seasoned of the championship qualifiers. Was the runner-up last year despite having the best performance according to most analysts. Enters this year's championship ranked second.
Adrian – Owner and president of Killer Wave Surfing Federation. Was critical of Quinn at last season's championship after Quinn's display of poor sportsmanship following a subpar performance.
Mason – The cream of the crop of this year's rookie class. Enters the championship ranked fourth.
Reese – The lead judge. Decided in Loren's favor during last year's championship tournament even though most fans and analysts felt that Lee had the top performance.
Sydney – Vice-president of Killer Wave Surfing Federation. A Federation legend, having won two championships during a long, illustrious career.
Taylor – Tournament judge and amateur surfer. Longtime friend of Reese.
Alex – Reporter and commentator with Surf Sports Network. Has a good reputation with most administration members, a fact that comes in handy in getting interviews.
Chance – Sports journalist with Surf Hawaii Magazine. Not afraid to ask difficult questions even if doing so might rub some the wrong way.
Dakota – Correspondent for Ocean Sports News. Generally well-liked and affable.
Glen – Hard-nosed columnist with Hawaii Sports Unlimited. Firm believer that the people deserve to know. Frequently known to push interviewees if they are being evasive.
Jade – Interviewer with Surf Sports Network. Always on the lookout for drama.
Lennox –Killer Wave Surfing Federation color commentator. Possesses an energetic style along with multiple catchphrases that consistently delight the Killer Wave loyal fan base.
Payton – Reporter with Aqua Sports International. Cordial and amiable but quick to ask hard questions when warranted.
Ray – Hawaii Sun Times. One of the most respected people in professional surfing journalism.
Skye – Extreme Sports radio. Known more for radio broadcasts than in-field work but consistently covers the Maui championship in person.
Teagan – Killer Wave commentator. A fan of the limelight who can always be seen at the Federation's biggest events.
Game Materials
Getting Started Instructions
Invitations
Character Bios
Name Tags
Host Guides for Acts 1 and 2
Detective Guide
Act 1 Character Sheets (Acts 1-3)
Evidence
Voting Sheets
Solution
Award Certificates
Spice Up Your Party
Welcome party guests to a traditional Hawaiian luau with an "Aloha!" and a filling feast of shredded kalua pork (made by placing a pork roast with 1 T sea salt and 1 T liquid smoke in a slow cooker on low setting for 14 hours) or grilled Huli Huli chicken (chicken marinated soy sauce, brown sugar, ketchup, chicken broth, and ginger), rice, macaroni salad, tropical fruit kabobs, and Hawaiian sweet rolls. As beverages, serve make-your-own smoothies, pina coladas garnished with umbrella toothpicks, or chilled cans of Hawaiian Punch fruit drink. Other taste-of-the islands dessert possibilities could be pineapple upside down cake, coconut cupcakes, shaved ice with a splash of sweet and condensed milk, or brownies with macadamia nuts.
Bundle to Save a Whopping 50% on Additional KILLER Party Games!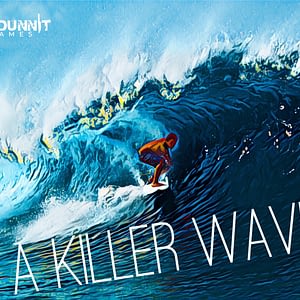 This item:
A Killer Wave
$

39.95
$

39.95